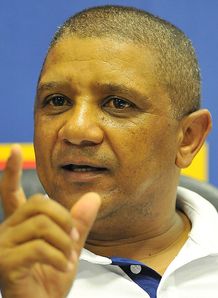 Related links
Teams
Also see
Stormers captain Jean de Villiers and coach Allister Coetzee admit they will be speaking to referee Craig Joubert ahead of facing the Chiefs on Friday.
The conversation will be dominated by off-the-ball 'holding' that they allege took place against the Crusaders last week, a subject Coetzee says management of the Christchurch-based Super Rugby side admitted to doing at AMI Stadium.
"When I chatted with the Crusaders management after the game they admitted the off-the-ball stuff around the ruck was a tactic they've adopted," Coetzee said on Wednesday ahead of the game.
"They were open about it and said the Chiefs used the same tactics against them. We know it is going to happen again this week and we hope that the referee and his officials will sort it out.
"I will definitely talk to Craig Joubert about it before the game. Who is going to deal with it if the officials do not?"
De Villiers added: "It is a very tough thing (holding) to handle, and you want to keep the game clean."
"So either the ref needs to do something about it or we (players) need to do something about it, and then it can get messy."