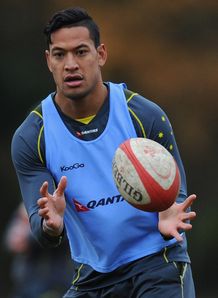 Related links
Teams
Also see
Chiefs boss Dave Rennie has revealed how he made an audacious bid to sign Wallabies utility back Israel Folau two years ago.
Rennie said the parties met in Sydney in August 2012 and interest levels were high enough that Folau's eligibility for the All Blacks was looked into.
"We just heard a whisper that he was maybe looking to get out of Aussie rules and looking to have a go at rugby,'' Rennie told Fairfax Media about the trip to meet Folau.
Rennie was accompanied by Chiefs assistant coach Wayne Smith, four months before Folau announced he had signed with the Waratahs.
''We went over to have a chat to him in and around one of the Bledisloe Cup games [in Sydney]," added Rennie.
"He's a good man and a hell of an athlete. We would have loved to have brought him over.''
Rennie explained that the Chiefs were investigating a deal for Folau without the involvement of the New Zealand Rugby Union. But any potential deal was scuppered by Folau's lack of direct eligibility.
''So for him to come here [New Zealand] and be eligible for the All Blacks immediately, he needed to have some sort of parentage lines, and he didn't have that,'' said Rennie.
When asked whether Folau was keen on moving to New Zealand and potentially representing the All Blacks, Rennie said: ''Yeah, I think he would have been. But [without direct eligibility] he would have had to wait three years before he could play [under IRB regulations], from a residential point of view, so it was probably never going to happen.''
Since his Super Rugby debut in 2013, Folau had established himself as one of the world's best attacking players from full-back, but the Chiefs had intended to use him as a wing, initially at least.
''He was always going to be a good option at full-back, but we were thinking about wing initially until he got his head around the game,'' explained Rennie.
''He's obviously played a fair bit at wing [in league]. There's a fair bit of positional responsibilities at 15, anticipating the game, and he still has a bit to go there.''