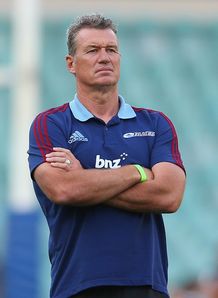 Related links
Teams
Despite enormous odds against them, Blues coach Sir John Kirwan is optimistic his side can still reach the play-offs.
The equation for the Blues to advance to the tournament's knockout stages is simple. Beat the Chiefs by a clear 38 points, and secure a try-scoring bonus-point in the process, at Eden Park on Friday.
That will push the blues above the Hurricanes on points differential into sixth position on the table, barring an outrageous outcome between the Brumbies and the Western Force in Canberra later on Friday.
"If there's one team in this country that can probably do it, it's us, so we're excited," Kirwan told APNZ.
"If we take the right attitude into the game, it's going to be a fun evening."
Chiefs assistant coach Tom Coventry knows his players will counter Kirwan's belief that the Blues can pull off an almost impossible task but he was more philosophical.
"That's the role of the coach, to keep things positive," said Coventry.
"Anything can happen in this competition. I can understand he's pushing that tune to his players. I'd certainly be doing it in a similar situation."