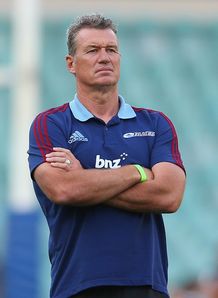 Related links
Teams
Blues head coach Sir John Kirwan has confirmed that internet sensation Daniel 'Taniela' Tupou is very much on the franchise's radar.
The 18-year-old tighthead grabbed the attention of the web after his impressive hat-trick of tries playing for Sacred Heart College.
Kirwan's own son also plays with Tupou, meaning the Blues boss is more than aware of the talent on offer at the school.
Declaring that he hoped Tupou wouldn't be lured away by others team after the increased interest, Kirwan described the prop as 'a special athlete.'
"I see him around quite a bit, and he's definitely on our radar. He's a player we want to stay in the franchise," Kirwan told Stuff.
"He's like all the other kids - there's another few boys playing for Sacred Heart - our problem is retaining these guys. We've got the world at our door trying to steal our players.
"Everyone says 'what are you doing?' We're actually doing everything we can not to get our players stolen down the road or across the ditch. [But] it's really hard for us because we're always the ones getting attacked because we have such a big pool of players.
"We're tracking all these guys. I'd love to keep them all. Daniel (as Tupou is known by his schoolmates) was part of our Blues under-18s last year, part of our system. We're hoping he'll stay in our system, but if he gets offers from all over the place it's really hard for us to control.
"He's a special athlete, and I know people in our franchise have [spoken to him] and I will be speaking to him in time. We want him to stay here."