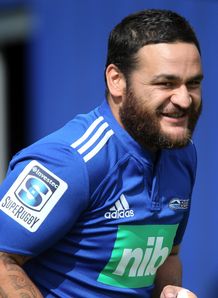 Related links
Teams
Blues scrum-half Piri Weepu has criticised his team-mates after their 39-20 loss to the Hurricanes in Wellington on Friday.
Weepu, who is recovering from minor heart surgery, was on waterboy duties during the match said afterwards the Blues players must do some introspection and get on the same page collectively.
"The boys need to look at themselves and make sure they're making the right calls when they look at themselves in the mirror," he told New Zealand's Radiosport.
The 30-year-old All Black believes the team is not playing for each other
"Not working for each other, really. We've played about 20 minutes in total this year, of good footy," Weepu added.
"When you're playing in a Super comp like this that's not good enough, so I guess the boys just need to figure out what they want to do as individuals for this team and everyone's got to get on the same page."
He also questioned the side's will to win ad feels that some of his team-mates are "sort of in cruise mode."
"At the end of thay that's true," explained Weepu.
"They did want it more than what we did, so, like I said, the boys have to look at themselves and figure out whether they actually want to be in the team or not.
"Because if you've got that kind of attitude then obviously you don't really want to be a part of the franchise."
Weepu is expected to return to action when the Blues face the Waratahs in Auckland next Friday.