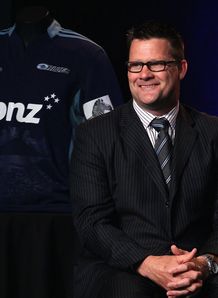 Related links
Teams
Blues assistant and backline coach Grant Doorey is excited by the number of quality players available to him for the new season.
The Auckland-based franchise will be able to use five All Blacks including Ma'a Nonu, Charles Piutau, Francis Saili, Piri Weepu and Frank Halai, plus cross-code convert Benji Marshall.
Doorey added that a number of young players would have benefited immensely from their first season and will come back stronger.
"I said the first time I had the backs group together that there wouldn't be any backs coach in Super Rugby that was as excited as me in terms of the quality he had in his room so we've got real star quality across the park," Doorey told the Blues website.
"I think the level of contribution you notice out of the second-year athletes is much better, they're a little bit more comfortable, a little bit keener to share their ideas, they're obviously better physically, and technically they're continuing to make improvements.
"So you should be expecting really positive things out of guys like Albert Nikoro, Pita Ahki, Baden Kerr, Bryn Hall and Jamison Gibson-Park.
"Then you add to that mix the fact that the All Blacks who have been away on a break - Charles Piutau, Francis Saili and Frank Halai who have all come back, and the experience of guys like Piri Weepu, Benji Marshall and Chris Noakes and you've got lots of intellectual property.
"Top quality pros like Jackson Willison are continually driving the standards of the group and then the young guys are continuing to bridge that gap which makes it really exciting for us.
"You add someone to the mix like Ma'a Nonu who I haven't mentioned yet who's probably the best midfield player in the world right now, it really gives you scope and opportunity to play lots of different ways with lots of different styles.
"We've got the backline to put significant pressure on any team in the competition."
Doorey added that he wanted the Blues to be as versatile and unpredictable as possible in attack to keep defences guessing, with the squad extensively working on perfecting their skills in training.
"We're trying to focus hard on our triple threat game so our ability to run, pass and kick the ball in all options and then really working hard on our individual animation in those plays so that we've genuinely got three options available all the time and then consistently our individual skill set within those plays is always critical."