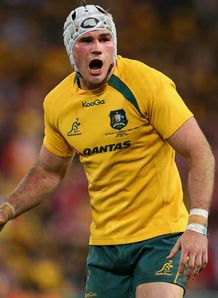 Related links
Teams
Also see
Former Wallabies captain Ben Mowen reacted with anger to suggestions he had reported the behaviour of some of his teammates.
Six members of the Australian squad were dealt suspensions during their November tour after a late night drinking in Dublin days before taking on Ireland.
Brumbies skipper Mowen, whose side will line up against the Waratahs this weekend in a Super Rugby clash packed with Wallabies, claims he knew nothing of the punishments dished out to a total of fifteen players until over 24 hours after the event.
"I'm very disappointed that my character has been questioned publicly when I think over a long period of time I've proven what type of bloke I am," Mowen told Fairfax Media.
"It doesn't sit well with me at all. You can't fake team unity, you can't beat Wales in Cardiff in the final game of a five-week tour if you don't have the basis of mateship.
"You can't do it, mateship was the basis of why we went so well."
"As far as I'm concerned, it's well dead and buried.
"It was dead and buried right there and then when we were in Ireland and that's why we had such a successful three week tour afterwards.
"We moved on and we performed really well and had a great time as a group together."
Mowen's Waratahs counterpart, Dave Dennis, failed to absolve the skipper of blame, strengthening the rumour.
"A lot of that stuff was out of our hands really so it's hard to blame anyone for it, it's happened and you move on," Dennis told News Corp .
"There were guys there who were disappointed with how things went, but that's three or four months ago now. All that stuff is in the past, every time you look at an Australian team you want to get the wood over them, we want to win our conference that is first and foremost."
Veteran hooker Stephen Moore also came under scrutiny thanks to allegations the Brumbies star had informed management of the late-night antics alongside Mowen.
Moore told reporters on Tuesday he felt the rumour was little more than the pot being stirred ahead of the derby clash.
"That's the way it is in rugby, you take the good with the bad," said Moore.
"A lot of it's false, as it always is. It's unfortunate that it's come up again this week, but personally it's not been an issue for me."
Wallabies boss Ewen McKenzie, for his part, responded to the allegations on Monday by stating that no player had "dobbed in", or tattled on any of his teammates.