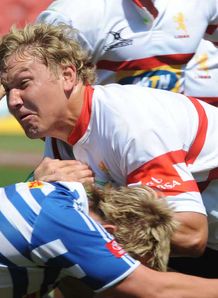 Related links
Teams
Brumbies coach Jake White has signed towering South African lock Etienne Oosthuizen as their foreign development player for the next two years.
Oosthuizen, 19, was capped three times for the Golden Lions in 2012 and turned out at schoolboy level for the Springboks.
Though young, he is powerful on the park - packing a hefty 120 kilograms (264 pounds) into his 1.98m frame.
He will take the Brumbies' foreign development spot, vacated by Fijian winger Henry Speight who will be considered an Australian player from 2013.
Under current rules the Brumbies are allowed one developing foreign player, who must never have represented their home country at first-grade level and are prepared to one day play for Australia.
Oosthuizen said he was sad to leave Johannesburg but would relish the chance to train under White and Laurie Fisher.
"As a South African, I realised the chance to move to Australia and join one of the world's best rugby programs was a once in a lifetime opportunity," said Oosthuizen.
"I've followed the Brumbies' development this year and they were one of my favourite teams to watch. I know I can add to their style and look forward to the coaching staff improving my own game at the same time."
Despite dominating the Australian conference for much of the Super 15 season, the Brumbies fell short at the final hurdle, losing to the lower-ranked Auckland Blues in the last round and missing out on the playoffs.
White has already lured injured Wallabies captain David Pocock to the Brumbies for 2013, along with former Australia winger Clyde Rathbone who is eyeing a comeback after chronic injuries saw him retire in 2009.