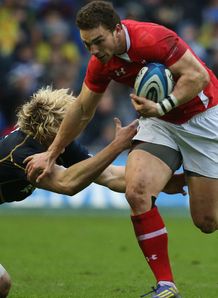 Related links
Teams
Wales winger George North has stated that Welsh fans will be eager for "a bloodbath" ahead of Saturday's clash with England.
North, who was born in England to an English father and Welsh mother, spoke about the excitement building around the country ahead of Saturday's title decider, with the fierce rivalry between the two sides coming to the fore.
"You try to keep a cool head and you try to maintain calm and focus. But everyone you see on the street is saying 'make sure you smash their heads in!'," said North to BBC Sport.
"The whole country [Wales] loves it. Wales is a massive rugby nation, and whenever we play England there seems to be this long, long rivalry that everyone just wants a bloodbath, really.
"They just want the best for the team, and their way of helping is just making sure they give you a tap on the back when you are walking round town or saying 'good luck'.
"Everyone has got that common thing that everyone doesn't really like the English in rugby terms. But they are a great team, and have great qualities.
"It's not like a bad thing that they [Welsh fans] hate them [English] because they are nasty people. It's that they are a good team to beat and a good scalp to have."
"You can't beat around the fact that it is a big game. But you've got to try and take it as your job at the end of the day, so it's just trying to focus now, ready for Saturday.
"If you cut all the emotions out of it, it's just another game. If you take all the fans away, it's just 15 against 15. You've just got to make sure your head is in the right place. You have got to pull yourself back from the occasion and try to relax.
"We had the heartbreak of the first game [Ireland beat Wales 30-22 in Cardiff] and did not perform very well.
"Then to have had such a hard journey with three away games on the bounce, and then come back home and come back with a great chance to retain the title, it's a great place to be for the whole squad."