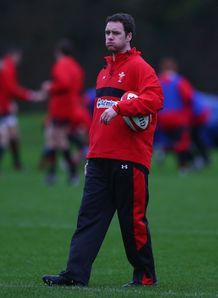 Related links
Teams
Wales backs coach Mark Jones admits that the national side's problems cannot be fixed in a week after the loss to Ireland.
Basic errors in attack denied Wales several key opportunities in last Saturday's 22-30 defeat, with Jones admitting that the coaches and players are working on it "constantly" to prevent missing out on more two-on-one situations.
"You can't fix it in a week," said Jones to WalesOnline.
"It is my job as a regional coach to make sure these players are put in these scenarios at regional level so when they come to this environment, which is very much performance and results based, the basic skills are in place.
"We all have a responsibility to make sure these players are tested at the highest level so when they do come here they execute those skills.
"I think you saw some great skill levels at times in terms of creating opportunities but then there were very basic errors in not executing two on ones.
"I didn't like seeing three on two situations being blown when I was on the wing and it is an area I put the players under quite a bit of pressure.
"We are working on it constantly but it is not an easy fix. You have to keep going with it and it is a matter of time."
Jones has also words of support for centre Jonathan Davies, who produced some poor handling at crucial moments against Ireland last weekend.
"Jon was very disappointed with his level of execution, particularly with some of his passing during the game," added Jones.
"He is not a natural passer. He is very athletic, he's fast, he's got a good outside break and is an excellent defender.
"So he works particularly hard on the handling side of the game because he realises that is the biggest area of the game he can make an improvement on.
"He is under no illusions. He doesn't think he is anything he's not and, fair play, he's been working with me already this week and we'll continue to work until the end of the week to see if we can improve that part of his game."