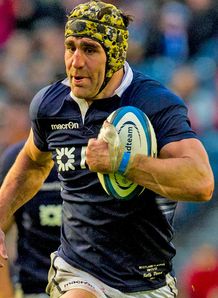 Related links
Teams
Scotland boss Scott Johnson has warned skipper Kelly Brown that he is far from guaranteed a place in his Six Nations starting XV.
Despite playing on the blindside or at number eight for much of his career, the Saracens loose forward operated at openside during the November Tests and has being doing the same for his club recently. Johnson plans to use the 31-year-old exclusively in that role going forward.
But the inclusion of in-form Glasgow openside specialist Chris Fusaro and talented Edinburgh flanker Ross Rennie has left some doubt over whether Brown will start in Scotland's Six Nations opener against Ireland in Dublin on 2 February.
"I've told Kelly to his face - and there's no use in running away from it - that if he's good enough to get in the starting XV he'll lead the team, and that if he's not we'll look for someone else," said Johnson.
"But we are only viewing Kelly as purely a number seven now. The six and the eight roles we will leave to other people but he has to cement his place at number seven."
Johnson preferred the likes of David Denton and Johnnie Beattie in the six and eight roles during the November Tests but insisted there is still room for Brown in his back row.
"We have some good six and eight athletes coming through," said the Australian coach.
"We need to compete athletically against the bigger nations and we have guys coming through who we feel can do that. Therefore I want to encourage the growth of those players.
"Kelly fits a different mould. He's done really well for Saracens at seven over the last five or six weeks so moving down the path that will be his spot."