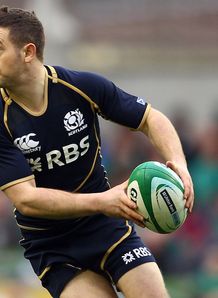 Related links
Teams
Scotland playmaker Greig Laidlaw has set his sights on becoming a permanent fixture at scrum-half rather than fly-half for his country.
Laidlaw had been operating in the number 10 jersey on a part-time basis for both Edinburgh and Scotland but the retirement of record-breaking scrum-half Mike Blair opened the way for the 27-year-old to return to his preferred position in last week's Six Nations opener at Twickenham.
The defeat in London may not have been the result Laidlaw was hoping for but his encouraging performance was enough to convince interim head coach Scott Johnson to retain him in the role for Saturday's clash with Italy.
"I enjoyed being back at nine. I was pretty comfortable in there," Laidlaw told Press Association Sport.
"I've held on to my place and hopefully I can build on that this week, keep the jersey for longer, and get that win that we desperately want.
"I'd now say scrum-half is my out-and-out position. First and foremost, I want to play as a nine.
"I'd fill in elsewhere if required, I won't shy away from that, but nine is my preferred position."
"There were parts of the game in London that were encouraging and parts that we need to improve on.
"We realise what they are and that is what we have been working on in training this week. The training will come through in the game and hopefully give us the result we want.
"We let England get on the front foot in the pack and we struggled to defend from there and if you let anyone do that, it's a hard day at the office.
"They gained momentum through that and that is one of the areas we have been working on.
"The coach doesn't mince his words, so we duly got told after the game where he wants us to go," he added.
"But we are not shying away from that. It's exactly what we need to work on, we know that ourselves.
"If we do that, I believe we will put ourselves in a position to win Test matches."