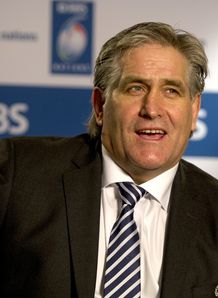 Related links
Teams
Scotland coach Scott Johnson stated that his side have plenty to work on if they are to improve in this year's Six Nations.
Stuart Hogg and Sean Maitland both scored tries for the visitors at Twickenham but Scotland were starved of possession and second best at the contact area - with Johnson admitted they must improve at the breakdown to get anything out of this year's tournament.
"I'm looking through blue eyes, so I'm not sure how England played but they must have done plenty right," said Johnson.
"When you're under constant pressure you are going to infringe more than you intend to - it's hard not to infringe when a side is dominating the breakdown like that.
"We were disappointing in the areas we need to work on. We can dream away but if we don't get the contact area right it's fantasy - dreams don't come true. We spoke about the improvements needed when we met in camp and we didn't make those today.
"It's no coincidence that the best team in the world [New Zealand] are the best in the contact area, both with and without the ball. Everyone looks at their great rugby players, but they can't be great rugby players unless they are getting quality ball.
"We need good old-fashioned hard grunt. There's improvements in our game needed right across the board.
"We weren't bullied at all. Did we try hard? Too right we did.
"I don't want to plaster over the cracks. Stuart [Hogg] had one of his best games in Scotland colours and we would like to get him into those positions. Yes, we can beat sides and look good, but we would like to look good more often. It's not for a lack of will. When we do it right, we look pretty good, but when we get it wrong we get punished for it."
by Ben Coles
@bencoles_