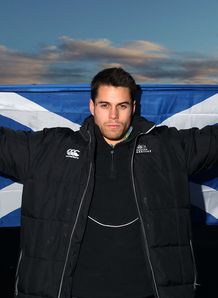 Related links
Teams
Scotland winger Tim Visser has defended the selection of the New Zealand-born-and-raised Sean Maitland ahead of Saturday's Six Nations clash with England.
Maitland's inclusion means that the visitors to Twickenham will have a formidable, imported, attack out wide, despite the grumbling of purists.
Dutch-born Visser made his debut for Scotland in June on the basis of his three years of residency in Edinbrugh while Maitland qualifies on the grounds of his Glasgow-born grandparents.
"Rules are rules, so people are eligible or not," Visser told Press Association Sport.
"My view is slightly skewed because of the way I got into the team.
"But if Sean is eligible and good enough to play for us, and he has shown a desire to represent Scotland, I think he should be able to."
Five members of Scotland's starting XV have just 10 caps or less but Visser reckons interim head coach Scott Johnson has got the balance of young and experince right.
"There is certainly some brilliant talent in there," said the 25-year-old.
"Some old stalwarts who have proven themselves over the course like Ewan Murray who wins his 50th cap. And that is augmented by some new players who have just joined the group.
"We are looking at some exciting new players so it's looking good.
"We have another attack-minded player like me in Sean in the team and it's brilliant to have him on the other wing.
"He has proven himself for Glasgow and has fought to get himself into the Scotland squad and I am all for that. It's good to see an exciting talent like him in the team."
Visser is not fazed by Scotland's dismal record at Twickenham, where they have not won for 30 years.
"We are always optimistic as players, because you have to believe in yourself," he said.
"We are going down there to win.
"England are a good team right now. History shows we have not won there much, but on the other hand, history has nothing to do with us.
"We are a team in our own capacity and we are going to go down there to try to win."