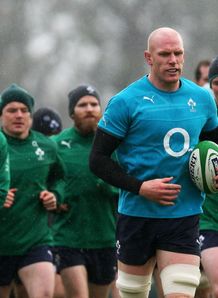 Related links
Teams
Ireland lock Paul O'Connell admitted playing without Brian O'Driscoll next year will be hard ahead of the centre's last Six Nations Championship.
O'Driscoll, who is set to break Ireland's cap record on Sunday with his 126th appearance, will line up alongside Luke Marshall against Scotland.
And before the game the 35-year-old has been praised by O'Connell, who sees the Leinster great as being ready for another solid campaign.
"Brian has so much experience at this stage, his body seems to be in great shape," he said.
"The two of us are generally first out to warm up these days because it takes us a bit longer to get going than everyone else! So we have a chat on our own while we're waiting for everyone else to come out.
"But he's on great form and really looking forward to it.
"It's tough to think what it will be like without him. Obviously he's a fantastic player but the confidence he gives to people around him as well, even to the forward pack is massive for the team, and it's going to be a big loss to the team.
"So if Brian O'Driscoll's available for the entire championship, I want him out there, and I'm sure everyone else will too. Brian will definitely want to be out there, that's for sure."