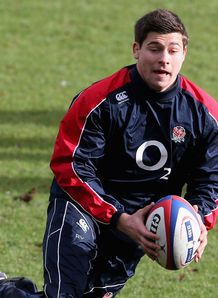 Related links
Teams
England scrum-half Ben Youngs has revealed that he has studied the styles of French number nines ahead of Saturday's encounter.
Youngs, who is currently edging out rival scrum-half Danny Care for the England starting spot, has studied the playing style of Dimitri Yachvili and Morgan Parra in the build-up to Le Crunch on Saturday.
"One of the players I have studied quite a bit is Yachvili and the way he determines everything and how he plays at Biarritz," said Youngs.
"The French nine traditionally runs the whole show. In England it is the 10.
Now, though, the way the game is moving nine and 10 both have to control each thing.
"He (Parra) dictates where the play is going, the ability to box kick or kick into the corner, the ability to look up and suddenly swing left when the 10 is lining up right.
"We have to keep our wits about us. We have all played against French teams enough to know they play in a similar way.
The performances of both Youngs and Care have seen them tipped to travel with the Lions to Australia later this year, with Youngs admitting that the pressure from other players is encouraging him to produce his best form.
"It is good for the squad and good for me because I know how I have got to perform," added Youngs.
"It will continue to be like this for the rest of my career with Danny and there are always new guys - look how Dan Robson played for Gloucester at the weekend, it will not be long before he is knocking on the door."