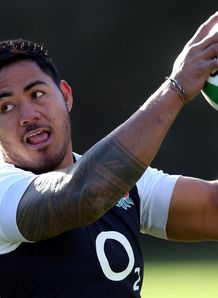 Related links
Teams
England coach Mike Catt has said that Manu Tuilagi will have to "up the intensity" if he is to be selected to face Ireland.
Tuilagi missed last weekend's game against Scotland due to injury but is now in contention to play in Dublin on Sunday.
Catt however has called on Tuilagi and other players trying to break into the starting side to up their efforts in training in order to impress.
"It is always difficult but it is a great headache to have," said Catt.
"From a team point of view you have three guys and each of them bring special attributes. It is great Billy has come along and performed the way he did against Scotland on his debut.
"Manu has been out of the game for three or four weeks. We will see how they all train and we will go accordingly from there.
"If the guys have performed exceptionally well on the weekend, the guys coming in need to make sure they have the tempo and up the intensity to really put their hands forward. That is what we want on Tuesday."
Catt meanwhile has admitted that England are working on how to contain Ireland talisman Brian O'Driscoll, describing the Irish first-half performance against Wales as "exceptional."
"It would be very hard (taking him out of the equation)," added Catt.
"O'Driscoll is playing exceptionally well at the moment. I thought that first half Ireland produced (against Wales) was exceptional. We know they are capable of doing that.
"Defence is across the board. Everybody knows their roles.
"We need to focus on our attacking game too, which went pretty well against the Scots, and try and starve them of the ball so they can't do what they are good at.
"It is a little game of chess we have to try and win."