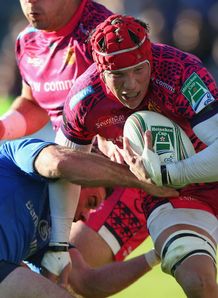 Related links
Teams
Scans have revealed that Exeter back-row Tom Johnson has a grade three medial collateral ligament tear which could sideline him for three months.
Johnson admitted he feared the worst when he suffered a sickening injury against Leinster in the Heineken Cup match at Sandy Park last Saturday.
He was carried off on a stretcher 15 minutes into the 29-20 defeat to the European champions from Ireland, with what appeared to be a knee injury.
"The way it was, the way the Leinster player fell on me, it could have been nine months out, so it's much better than it could have been," he said.
"It's pretty much fully ruptured. There's a little bit of the ligament still hanging on but I think, all in all, I'll take that.
"I was thinking it was a long-term injury when it happened. At least this means I'll hopefully be back before the end of the season.
"It can be a week either way, depending on the rehab, but there are many things that could happen on the way back. As a very rough estimate you tend to say ten or 12 weeks, but there's no real way of knowing.
"I'm just thanking my lucky stars at the moment, that it's not going to be as long as I thought. Then hopefully, I can kick on when I get back fit again."