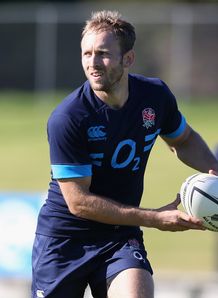 Related links
Teams
England's uncapped full-back Chris Pennell hopes to get a chance off the bench to impress against New Zealand at Eden Park.
Pennell's selection comes at the end of an unusual season, with the Worcester player nominated for the Premiership Player of the Year award despite being relegated.
Pennell consistently stood out despite Worcester's woes and now finds himself up against the All Blacks in Auckland.
"I'm desperate to get out there at Eden Park, soak up the atmosphere and be a part of what promises to be a superb game at the top level of rugby," said Pennell.
"Hopefully I'll get an opportunity to show what I can do. I don't think I'll face many tougher tests and I'm really looking forward to it.
"I've been making sure I get everything in place so I can perform as well as I possibly can should I come on."
Pennell described the happy moment his name was read out as part of the matchday 23.
"I had a fairly big smile on my face when the team was announced and I'm hugely appreciative to Stuart for giving me the opportunity," added Pennell.
"But I quickly came back down to earth and realised there's a game to be played. So I'm focused on the match and trying to take in as much information as I can.
"I've been inundated with messages from fans wishing me luck ahead of the game and I thank all of them for their support.
"I know there will be a lot of people back home watching the game on Saturday and cheering me on. And that means everything to me."