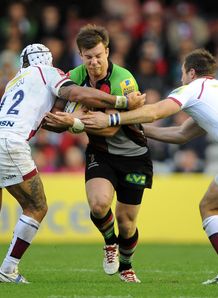 Related links
Teams
Worcester are set to recruit out-of-contract Harlequins winger Sam Smith, but will lose centre Josh Matavesi according to a report.
Smith will head to Sixways after Harlequins confirmed the signing of England winger Marland Yarde on Thursday from London Irish, say Worcester News.
The 23-year-old has scored 23 tries in 66 appearances for Harlequins and is a former England U20 international.
Worcester confirmed the signings of Matt Cox and Ryan Mills from Gloucester earlier this week as Dean Ryan builds for next season.
The Warriors though are currently 11 points from safety at the bottom of the Aviva Premiership.
Matavesi is expected to depart Sixways when the season ends, with the Ospreys his rumoured destination.
"Josh has choices to make about his future at the club and Ryan [Mills'] arrival makes a statement about what it looks like at this club next year," said Ryan.
"Those choices sit with Josh and they always have done. This isn't recruitment on brinkmanship, it is about something we are setting out on next year and giving a clear identity of the type of person we want.
"That then allows other people choices and some of those we'll choose not to be involved in and others might see people choose not to be involved with us.
"Everybody has the ability to go either way and that's the same with Josh, who will play those out whichever way he thinks best for him.
"I'm not prepared to say whether there's an offer on the table for Josh. By saying that, people will read into it that there isn't one.
"A lot of the negotiations with employees are about conversations and along those lines we have positioned it so Josh has a choice to make and that's left up to him.
"We've been quite clear on what we're doing and what our expectations are and he's been quite clear about requiring a choice and we respect that."