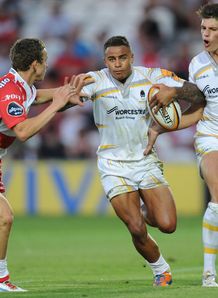 Related links
Teams
Worcester Warriors winger James Stephenson is adamant his side have the foundations in place to avoid relegation from the Premiership.
The Warriors remain rooted to the bottom of the league table, and emerged winless from their Challenge Cup double-header against Biarritz last week.
But Dean Ryan's charges, still without a domestic victory this season, were minutes away from triumph in both cross-Channel clashes.
Stephenson argues the quality displayed by the Warriors in the brace of defeats, 19-15 and 33-25 respectively, left the side confident they could pick up more points in the Premiership.
"We had chances in those Biarritz games so of course it was a bit frustrating," said Stephenson.
"But we played some really good rugby, the focus on the Challenge Cup was to go out and play rugby free from the shackles and chains.
"And we managed to do that, it was such a rewarding two weeks. We are not overly concerned about the results.
"Of course it would have been fantastic to get the win but even so it was a massive, massive positive for us and now we have to carry on and build on that.
"As soon as we pick up that first win then the table will not look so wide, with that I'm sure the atmosphere will lift around the club.
"But to be honest it has already been lifted, it was during the LV= Cup that it happened."
That tournament, the LV= Cup, was where the Warriors landed their only win of the season against Cardiff Blues.
Stephenson, though, insists the mood at Sixways is upbeat.
"If you were to come to Sixways you would have no idea that we are a side at the bottom of the table," added Stephenson.
"There is a great work ethic here, this is not a dire place and no-one is walking round with their heads down, the coaches are doing a fantastic job.
"The word relegation is not talked about, no-one is dwelling on the fact that we are bottom of the table.
"We are all about getting better and growing as team and hopefully we will not need to be worrying about particular games and targeting points by the time that part of the season comes around. Every game is one that we play to win."