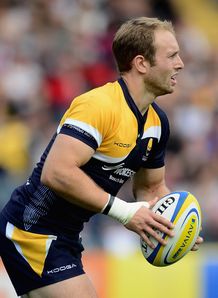 Related links
Teams
Worcester full-back Chris Pennell has committed his future to the club by signing a new contract until June 2017.
The announcement comes as a huge boost to the club who are currently adrift at the bottom of the Aviva Premiership by ten points and facing relegation.
Pennell has enjoyed the best form of his career under Dean Ryan and has been a stand-out performer in a number of matches this season.
After coming through the Warriors academy, the full-back became a club centurion against Harlequins at the end of last season and is the longest-serving player at Sixways.
At 26, Pennell is a player in his prime and his new contract signals Warriors' commitment to ensuring the best players remain at the club as we continue to build for the future.
"This announcement comes as a statement of our long-term intentions and illustrates that our top players are buying into the vision," said Worcester boss Dean Ryan.
"Chris has had a huge impact on the team this season and I am delighted that he has chosen to be part of this club for years to come.
"Not only has he shown tremendous commitment on the field, but his desire to stay with the Warriors until at least 2017 clearly demonstrates a passion to succeed at the club in which he began his career.
"I know this news will be welcomed by his teammates, supporters and everyone associated with the Warriors."
"I'm really excited about the direction the club is going and I'm really happy to extend my contract," added Pennell.
"The fact that I'm improving as a player is credit to the coaching set-up and how much it suits me and I'm excited about the prospect of developing further here.
"I'm confident that success is just around the corner for us and I want to be a part of that."