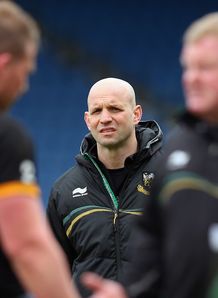 Related links
Teams
Northampton boss Jim Mallinder believes Worcester can avoid relegation despite the Warriors' position at the foot of the Premiership table.
Worcester are yet to win a game after nine attempts and are 10 points adrift of 11th placed London Irish but Mallinder feels he saw plenty of positive signs during his side's 33-10 victory at Sixways on Saturday.
Warriors threatened to cause an upset when they led second-placed Saints 7-6 at half-time, but they faded as the match progressed and allowed the Saints to cruise to a comfortable win in the final quarter of the contest.
"It is a big challenge for Worcester, but there are definitely signs that they can get out of the position they're in," said Mallinder.
"I thought they were dogged and they were defensively well organised - they slowed our ball down and stopped us getting on the front foot.
"It's hard when your pack is not functioning though.
"We pride ourselves on our pack and I think our scrum was probably dominant, but I think Worcester will improve."
But Warriors' director of rugby Dean Ryan is concerned by the way his side drop off the pace in the latter stages of matches.
"There are so many issues around the final 20 minutes of games," he said.
"The power of our bench is one thing, while we also have a huge amount of injuries at the moment.
"It is easy for the star-studded sides to moan about their internationals that are missing, but we've got serious problems with injuries.
"The confidence that we can compete longer and longer in games is starting to come and hopefully we can start to close the gap."
And despite having said recently that he was actively looking to bring in new players, Ryan is now suggesting he will press ahead with the club's current players.
"Everyone is thinking that there is a miracle player out there, but there isn't," he added.
"I won't create layers at this club, as there are people already here who can do that job.
"If I feel there is someone who can add to this, then that's different, but this market place at this time of year doesn't offer many opportunities. The answer is within this group and we will work hard, keep getting better and people will take their opportunities.
"I think we came through the Saints game unscathed, but we will assess that today. Hopefully, we will now see a few more coming back over the next few weeks and that will make us a bit stronger in terms of squad depth."