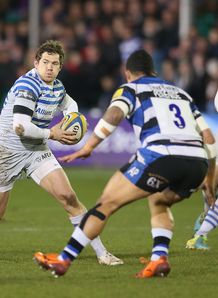 Related links
Teams
Saracens stand-in number ten Alex Goode learned of his switch from full-back to fly-half only 30 seconds before kickoff against Bath.
The England international put in an excellent performance in the number ten channel, adding a well-executed drop goal and steering the league leaders to a 23-10 win.
The victory moves Saracens back up to the top of the Aviva Premiership, with head coach Mark McCall hailing Goode's composure and versatility after coming in for a sick Charlie Hodgson at the last minute.
"This week was a five-day turnaround too and we got Alex Goode back from England only on Wednesday. He was getting ready to play full-back tonight and with 30 seconds to go, he's asked to play fly-half," revealed McCall.
"He did an amazing job and we had to re-adjust a lot of people. The team put those setbacks behind them and just rolled up their sleeves. It was a great performance.
"Alex hasn't been at the club for four or five weeks, apart from a couple of days.
"Charlie was feeling really dizzy and light-headed. It would have been wrong to expose him to a game like this."
"To have to step in and play fly-half against a really good team in a big atmosphere, in a big game, and do what he did, was pretty special."
Tries from Chris Wyles and David Strettle set Saracens on their way, with even a yellow card for Wyles and Jacques Burger not enough to prevent the win.
"We are very satisfied. I thought the effort was extraordinary, the way they fought for each other. From minute one to minute 80 it was a brilliant team effort," added McCall.