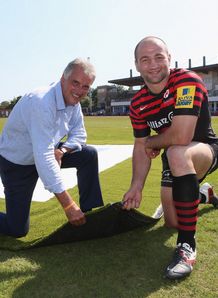 Related links
Teams
Saracens chief executive Ed Griffiths has admitted that installing an artificial surface at their new Stadium is a calculated risk.
Sarries are to set to play their first game at their new Allianz Park home in north London against Exeter Chiefs on February 16 and work is underway to get the new venue ready.
The pitch will be the first of its kind in the Aviva Premiership and Griffiths believes it will be a positive step forward for the club.
"Of course there is a risk of being first," Griffiths told the Watford Observer .
"The general reaction of other clubs has been OK it's interesting but let's wait and see how it turns out, but at Saracens we want to be first and we want to be taking the club forward. In two years time either everyone in rugby will have moved to what we have or we will have moved back to grass."
"The great thing is that because it is plastic underneath, fathers and sons can go on the pitch and play on it until the end of the night as far as I'm concerned. And we won't have a game called off until it's below -8 degrees celsius - so I've already drawn up the rental costs for when the winter months draw in!"