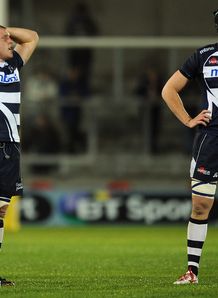 Related links
Teams
Also see
Sale Sharks boss Steve Diamond has revealed that young stars James Gaskell and Henry Thomas will both leave the club this season.
Gaskell, 23, was named Sale captain at the age of 20 and has represented the England Saxons.
Thomas, 22, is part of England's squad for the Six Nations and is expected to be named in the matchday squad due to an injury to Bath prop David Wilson.
Speculation has linked the two players with moves away from the AJ Bell Stadium for some time, with Gaskell linked with London Wasps and Thomas with Bath.
Announcing their departures, Diamond confirmed the search was already underway to find their replacements.
"Jamma and Henry are moving on at the end of the season and replacements are being sought as we speak," Diamond told the Manchester Evening News.
"We're confident that we'll replace the lads and we wish them all the best.
"Its the nature of the beast that while some players want to stay other wish to move on.
"Henry is of the opinion that he'll progress further internationally by moving on. As regards to Jamma, he's moving to London after being at Sale for six years and he wants a change in his life as well as a different challenge.
"With both Henry and Jamma its not a money issue as to why they are moving on - its purely for rugby/lifestyle reasons.
"There's no rancour or bad feeling and we'll wish both of the lads good luck when they do move on."
Diamond added that new contracts were being arranged however for wingers Mark Cueto and Tom Brady, along with who his recruitment targets were over the coming months.
"We're very close with Cuets and hopefully we'll soon have a deal done and its a similar situation with Tom Brady," added Diamond.
"We're looking for a top class scrum-half to replace Peely and now a top class tighthead prop to replace Henry. And we're looking worldwide for the right players.
"Hopefully, we'll get some deals done within the next two or three weeks as we are down the line with one or two.
"But until you dot the is and cross the ts a deal is never done."