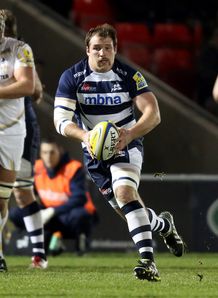 Related links
Teams
Sale tighthead prop Henry Thomas could move elsewhere as he looks to break into the England squad ahead of the Rugby World Cup.
Thomas has been marked out as a talented youngster for some time and won his first cap for England on the tour to Argentina back in June.
The 22-year-old's contract with the Sharks expires at the end of the season, with Thomas likely to recieve several offers over the coming weeks.
However Thomas is doing his best to ignore the speculation, stating that the experience of making such a big decision was new to him.
"I'm aware there's a lot of speculation about my future but you've got to try and ignore it," Thomas told the Manchester Evening News.
"In a way, I take it as a bit of a complement that people are talking about me. It's my fourth season here now and I absolutely love it in Manchester but its the first time that I've been in a situation where my contract is up.
"I have never made this type of decision before and it will be based on how I feel I can improve the most as a player.
"I love being at Sale and I love living in Manchester. I have a lot of friends here so looking to the future for me its a massive time in my career at 22.
"This is a period now where improvements need to be made so I can try and push on to be an international player.
"People were always going to speculate about Bath because of my background and when you are out of contract you tend to be linked with every club going.
"I'm just trying to ignore that kind of talk at the moment. For me its about getting fit and then I'll look at my future in the New Year.
"I've chatted to a few guys here at Sale who were in this position last year and they said it did affect them a little bit. So I've asked for advice about the best way to try and deal with it and I'll take my time in order to make the best decision."