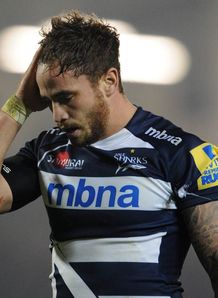 Related links
Teams
Also see
Sale fly-half Danny Cipriani praised the impact of mentor Steve Black as the pivot continues his return to top form for the Sharks in the Premiership.
The 26-year-old, who had a difficult first season at the club, has been helped by former British and Irish Lions staff member both on and off the field.
And Cipriani said that since working with Black he has had a better life and playing form as the club enjoy a stronger start to the term than in 2012/13.
"I think things are going a lot better - both personally and with the team," the international fly-half told the Manchester Evening News.
"Looking back, I think having a season like we did last year; the expectation just at a point of not achieving what we wanted to, in terms of where we ended up, it was a kind of a success because we were so low for such a long part of it.
"But we obviously weren't happy with how it went and I think this year we had the chance to prepare smarter.
"I learnt a lot in terms of how to prepare myself and what I need to do to become the best that I can be and be back to where I was.
"And also to keep myself in a calm state of mind and to be very positive.
"I've got a good stable of people around me including Steve Black who has been a really big help over the past six months with me. He still works with Jonny over in Toulon and I see him once a week and we talk almost every other day and having someone like Steve around really does help.
"At Wasps I had Shaun Edwards and he was that type of person for me.
"Steve acts like a mentor and it's about life, it's about the game, about how you prepare, about becoming the best athlete you can be - it's about all sorts really to make sure that you are putting yourself in the best position to perform the best you can each week.
"It's about having the confidence and the vibe. Now when I'm on the field I feel a lot more authoritative than I did last year.
"You've got the controllables and then there are things outside your control and maybe sometimes perhaps I've let things frustrate me with things you can't control a bit too much.
"That's a key part of what Blackie does in terms of clearing my mind and being able to focus on what you can control. He is incredible in how he helps.
"Working and talking with Steve is helping to clear my mind of clutter and gives you a certain focus so that you are ready for the task in hand."
Last season Cipriani ran in front of a bus in Leeds on Sale's now infamous team night out, which saw him hospitalised. He admits it was a period that saw him reflect on his career.
"Looking back, what happened in Leeds definitely in April did make me refocus," Cipriani said.
"Obviously it was a situation where it could have been a lot more serious and could have cost me my life and luckily I only came out with an ACL injury.
"Having that makes you refocus. The immediate focus was on getting fit and I had a very successful pre-season and came back looking to be a better athlete.
"That's what I have been working on here with the conditioning staff led by Adam Grainger - it's been phenomenal.
"It also reminds you that it's a short career. I reckon I've probably got nine or 10 years left in me, so it's about making these next years ahead of me the best.
"I have cut down on going back to my family in London a little bit but I don't necessarily think that's the reason for me playing better.
"I am happy up here, I'm happy living where I live on the outskirts of Manchester and I'm enjoying it a lot but there's lots of other reasons why I have changed my performances though I guess that could be added to it.
"I just wasn't happy with how I was going. Perhaps there was things I wanted or could have changed around but ultimately you have got change yourself first and really work on yourself and focus and that's what I have been doing to make sure I am playing well."
Cipriani added: "I'm definitely growing each week and there are certain things I'm trying to learn from each week - be it a certain tackle or taking on the line or a certain kick."
"Maybe sometimes in the past I have tried too hard but I've got a good mix this season where I'm working well with the coaches.
"They are giving me enough space and confidence in terms of letting me do what I can do and letting me drive the team. Our relationship is better than last year and that's something which is important.
"I think being a sportsman how you play and perform at the weekend can shape the rest of your week so when we've been getting more wins this season it's obviously a happier place.
"I think we are definitely growing as a team and there's an understanding but there's another 40 per cent where we can improve and get better.
"Week in, week out I do feel very confident out on the field and I want to keep going forward. We've got a big game tomorrow against Worcester and it's important that we win to put ourselves in the top half of the table."