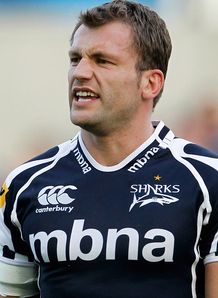 Related links
Teams
Also see
Former England wing Mark Cueto has claimed some Premiership teams are sidestepping the league's enforced salary cap.
The Sale Sharks man, who sits atop the Premiership's all-time try-scoring chart, has alleged that many sides find methods of overcoming the current £4.6m limit.
"There's no way you can tell me that certain clubs in the Premiership are sticking to the salary cap," Cueto told the Telegraph.
"I'm not saying them all, but I certainly think there's a couple. Players know other players. We've all got friends at other clubs and we all know what sort of money players are on.
"You look at a couple of clubs, and for them to be within the salary cap, they would all have to be on pretty average money, and for the names and the players they've got, they're not. So, that's a different conversation. I don't want to get into trouble talking about that, but it's blatantly obvious to everyone involved in the game.
"It is a worry that there's two, three, or four teams that are potentially going to splinter off and create a bit of a Manchester United, Chelsea type situation within the rugby Premiership. A lot of that is down to finances, and how they're setting up squads, against clubs like ourselves who potentially don't have those finances and strictly stick to the salary cap."
Accusations of this nature being bandied around the elite domestic scene are not a novelty, with London Irish Director of Rugby Brian Smith claiming earlier this year that "some teams are cheating the salary cap and spending twice what we do on our squad."
Premier Rugby Limited (PRL) rugby director Phil Winstanley has refuted Cueto's claims.
"With all the depth of information and analysis that's available, what you have to say is that if anything is breaking the cap, it is not an accident", he said.
"If anybody is doing that then they will eventually be exposed, because players talk, employees talk and people make mistakes.
"It is a very detailed process. We can go in and ask for information. That's why I'm keen to make the points that with all those steps ... when you add all that up it's quite a robust system, and there's a lot of information being captured."