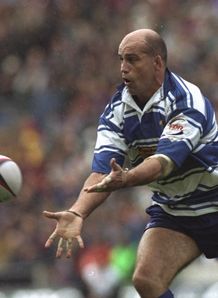 Related links
Teams
Also see
Sale have drafted in former All Blacks head coach John Mitchell as they attempt to drag themselves clear of the relegation mire.
Mitchell, who played for the Sharks in the 1990s, has answered the call of former teammate Steve Diamond and will immediately join the club's coaching staff.
The 48-year-old quit the Lions in South Africa last week, which allowed him to link up with the Aviva Premiership strugglers on a permanent basis.
"Some of my mates think I'm mad and that I should sit back and wait for a Test team, but at the end of the day rugby is in my blood and I think this challenge is something that stimulates me because of the situation that Sale are in," the ex-All Blacks boss said.
Despite Sale's abysmal start to the season, losing eight of their opening nine games, Mitchell believes they can turn things around.
"Rugby can deal you some hard cards at times but when we dig ourselves out of this situation the club will be even stronger for it," he said.
"At Sale we have always prided ourselves on playing an attractive style of rugby but also been a very hungry side. And when we're hungry were pretty hard to stop.
"So I'd like to see a lot more hunger. You don't necessarily need to be the best football side around but you do need that hunger.
"We seem to be quite comfortable and enjoy playing with the ball but I'd like to see us get a little more excited without the ball and create more pressure at the right end of the field."
Mitchell also explained the process leading to his arrival and why he had to return to South Africa to clear his name before returning.
"Well, Dimes [Steve Diamond] sort of gave me an SOS call to see what was happening.
"At that particular time I was in suspension and had to go through a process. I'm thrilled to have got through that process to be found innocent of all allegations.
"The next thing was to be reinstated in my position and then at that point I mutually agreed with the Golden Lions that they have moved on and emotionally I have moved on.
"That's what I had to get done.
"It's taken a lot longer than I would have hoped. It's been six months and five days of a hearing. So it's been an arduous process but I had to get everything cleared so that I could move on. My reputation is still very much intact and also my brand."