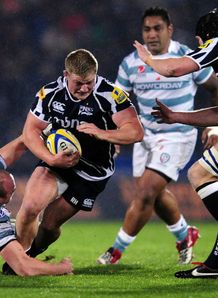 Related links
Teams
Sale Sharks have announced that promising front-rowers Tommy Taylor and Ross Harrison have signed extensions to their contracts.
21-year-old hooker Taylor and 20-year-old prop Harrison have both made a huge impact since being handed their first team opportunity earlier this year.
The news is a tremendous boost ahead of Saturday's return to Premiership action when the Sharks visit Gloucester, and is a further statement of the faith the club has in the region's promising rugby players.
Harrison has penned a new three-year deal to stay at Sale with Taylor agreeing a similar long-term contract.
The pair both signed Academy forms with the Sharks on the same day in the summer of 2011 but such has been their rapid progress in the first team set-up this season, that CEO Steve Diamond now sees the duo as integral both to the club's battle to pull clear of the Premiership relegation zone, not to mention the club's long term future.
Since coming into the side, Taylor has brought aggression and dynamism to Sale's work in the loose while his pin-point accurate throwing has helped established the line-out as one of the Sharks' big success stories of recent weeks.
Meanwhile, after being handed a Premiership debut away at Worcester last month, Harrison has helped improve Sale's scrum and produced a series of outstanding individual displays.
"It's great news that they have agreed these long-term contracts," said Diamond, who has also opened contract renewal talks with a number of other players who will be out of contract at the end of the season.
"Both Tommy and Ross epitomise everything that is good about the club.
"They are both local lads who give everything for the club, and they fit into the template of what we are trying to build here.
"They are the ones who have really come to the fore in recent weeks.
"I've been amazed at how well they have stepped into the side and dealt with the pressure and risen to the challenge.
"In fact they have inspired everybody else to 'up their game' with the way they have played. They are so consistent in everything they do.
"They are not alone. We've got some great young lads on the scene in Will Addison, Rob Miller and Tom Brady, who have all done well, and we've got Henry Thomas waiting in the wings, too. He's just 21, and will be back from injury sometime in the New Year.
"We've talked about building the club around local talent and these lads are really what we are about.
"Hopefully, their progress also demonstrates that we are not afraid to give young lads their chance."