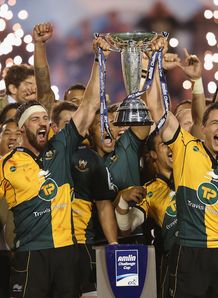 Related links
Teams
Northampton Saints back-row Phil Dowson hailed the togetherness of his squad ahead of Saturday's 'spectacle' at Twickenham.
Saints are back in the Premiership Final after suffering defeat at the same stage last season against Leicester Tigers.
Following their dramatic semi-final turnaround against their East Midlands foes and then going on to win the Challenge Cup against Bath last week, Northampton are on a roll.
"We have got something to believe in at the moment, and we just have to keep on believing," said Dowson.
"We know we have to play well against Saracens. We have always had belief, but just come unstuck in the past in various finals, so we have to take those lessons on board and keep improving.
"We will look at this game and make sure we don't make the same mistakes again against Saracens and just hold together against them. We know it is going to be pretty intense.
"We will focus on what we have to do, and I am pretty sure we will give them a good match.
"The belief is no different from the years gone by. The spirit and the togetherness is different.
"We are very close-knit. Even the lads who were not involved in the Challenge Cup Final have given us tremendous support. They don't get bound by disappointment.
"There was a time recently when we weren't playing very well and we lost to Leicester and Saracens. We needed to turn things around, and we found a massive energy."
Northampton's impressive season would be a waste though without victory in the Premiership Final admits Dowson, believing the margin between the two sides to be small.
"All that hard work is for this prize - it is for this one-off spectacle. And because of all that hard work, we don't want to waste it," added Dowson.
"We want to make sure it will count in the big event, so it is not bad to have had the build-up we've had for what is a massive thing to have at the end of the season.
"Saracens have a very strong squad, but we will go and play and I think we have the quality to trouble them. I don't think there is a massive amount in it."