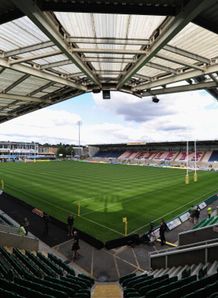 Related links
Teams
Plans for the expansion of Northampton Saints' home stadium, Franklin's Gardens, have been approved by the local council on Tuesday.
Following an extensive public consultation and pre-planning process, Northampton Saints submitted a full planning application at the end of October for a new North Stand that will see the total capacity of Franklin's Gardens be increased to over 15,500, a 20 percent rise on the stadium's current size.
The recent success of the Saints side is reflected in attendances at Franklin's Gardens, with the stadium being filled to in excess of 95 percent of capacity year in, year out and with half the home games played so far in 2013/14 having had the 'sold out' signs hung well in advance of the match day itself.
Councillor David Mackintosh, Leader of Northampton Borough Council, says that it is fitting that the Saints has a venue worthy of the team's current status.
"The Saints team is made up of top class internationals and some of the brightest young players in world rugby," said Mackintosh.
"The team represents our town proudly every week as they compete for domestic and European honours. So it is only fitting that they play in a world class stadium that can be a fitting venue for some of the biggest matches in club rugby
"A larger stadium not only gives more supporters the chance to cheer on the players in black, green and gold, but will be a significant boost to the local economy."
"The new North Stand is vital for the long-term growth of the Saints," said Saints chairman Tony Hewitt.
"The additional capacity gives more people from across the town, county and beyond the opportunity to watch some of the best players in England play rugby, while the growth in revenues will allow us to increase our re-investment into the playing squad and maintain the recent levels of success we have enjoyed."