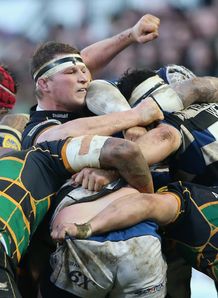 Related links
Teams
Crushing defeats are driving Northampton to success this season domestically and in Europe, according to skipper Dylan Hartley.
Northampton in recent years have lost a Heineken Cup final against Leinster and an Aviva Premiership final to Midlands rivals Leicester Tigers.
Hartley was famously sent off in the Premiership final at Twickenham last May but has bounced back to produce some excellent form this season.
Saints are currently tucked into the top two of the Aviva Premiership along with Saracens but their chances of progressing in Europe look slim as Leinster lead Pool 1 by four points, despite Northampton's impressive win in Dublin in December.
"All the experience comes with the heartache of losing big games and lessons there," Hartley told the Northampton Chronicle and Echo.
"Before the season's finished we're going to lose some more games, no doubt.
"It's how we react, how we learn from those and put it to better use to come back and try to use some."
Hartley also offered an insight into his leadership style, commenting on the bonus of having other senior players around him in the Northampton side including England internationals Tom Wood and Lee Dickson.
"After the game I go out there and pull the lads in for a huddle," added Hartley.
"I talk enough, I don't need to talk any more and it's nice when people step up and speak and say their bit.
"We've got a team full of leaders and it's good to be part of."