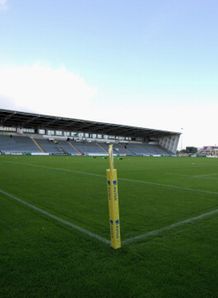 Related links
Teams
Newcastle Falcons chief executive Paul Varley has resigned from his post in charge of the club after less than a year at the helm.
Varley was appointed the role some ten months ago, in January 2013, but has now confirmed he has stepped down from both his position as a director and company secretary of Falcons owners Newcastle Rugby Limited.
Both the club and the now ex-CEO maintain the split was amicable, and indeed, the latter was keen to stress there was nothing unsavoury surrounding his departure.
"I've stepped down as chief executive - but then I never had the intention to be chief executive in the first place," Varley told the Journal.
"I'll revert back to the role I had previously, continue my work with the LEP and focus on that, and move onto other things.
"I'm still chair of the community foundation and I'm still going to be around the club.
"I don't want anyone to think anything untoward has happened.
"The team has another big important game this week and I'm looking forward to watching."
Varley sought to wish Director of Rugby Dean Richards and his side all the best for their Premiership campaign, and reassured supporters that - off the field - the club was going "from strength to strength".
A club spokesman confirmed the ex-CEO had left his role, with papers to that effect filed with Companies House on November 11.
"We thank Paul for his work and wish him all the very best for the future," said the spokesman.