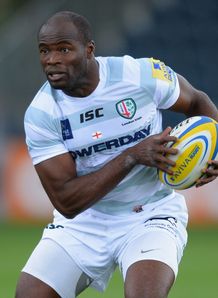 Related links
Teams
Also see
London Irish wing Topsy Ojo has signed a new three-year contract with the club ahead of making his 200th appearance.
Ojo, who scored two tries for England against New Zealand back in 2008, is set to complete his double century for the Exiles at home to Wasps this weekend. He has since gone on to become the club's record try scorer.
"Topsy has been an outstanding servant for this club over the last decade," said Irish director of rugby, Brian Smith.
"He is a committed senior player who gives you 100 per cent whenever he takes the field. He has made a great start to the season and continues to be one of the top back three players in the Aviva Premiership. He's a role model for all our aspiring outside backs."
"I joined London Irish straight from school and the club have been brilliant to me over the last ten years," said Ojo.
"It's always an honour to wear the London Irish shirt and I'm looking forward to pushing on over the next three years with this group of players. The support I have received over the years has been amazing and I'm also looking forward to achieving many more milestones with the club. "
Having tasted great highs - including reaching the 2009 Premiership final - and lows with Irish throughout his time at Sunbury, Ojo believes the duo of O'Connor and Yarde are up there with the best backs he has played with.
"The boys I am playing with in the back line right now are definitely up there with the best I have played with during my 199 games so far," added Ojo.
"We have had some unreal players over the years and when I first broke into the team the likes of Delon [Armitage] and Sailosi Tagicakibau were just amazing.
"And James and Marland are similar in that they are really attacking players of international class who can do wonders when given the ball.
"They are high quality players who are starting to link up and starting to understand how to play together and given some more time I am sure it will all click.
"James O'Connor has obviously only been with us a few weeks but he is such a good player that it is so easy to get on with him and to learn how he plays that I am sure he can help us get back up the league."
Ojo funnily enough made his debut against Wasps back in September 2005 also at the Madejski Stadium, providing the perfect occasion for him to celebrate his landmark apperance this weekend.
"It is great to be on the cusp of my 200th appearance, and all for one club too and one that is close to my heart is fantastic and I am immensely proud," admitted Ojo.
"Because of the way the game is I never thought about making this many appearances, you never look beyond four or five games really because anything can happen.
"It is funny because I made my debut against London Wasps and then wasn't in the team at all the next week.
"But it is great to be playing my 200th game in front of our home fans and in a derby and hopefully all my friends and family and the terrific support we always get will help me celebrate it with a win."