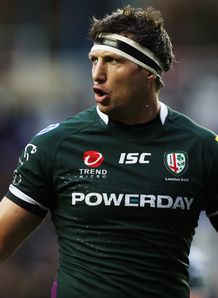 Related links
Teams
London Irish veteran Declan Danaher has signalled that this may well be his last season playing rugby as he nears a club record of appearances.
Danaher, who has been with the Premiership side for a remarkable fourteen years, is in line to play his 170th game for Irish this Saturday.
That would put him ten matches behind Justin Bishop, with the 33-year-old admitting he is no longer worried about hanging up his rugby boots.
"I'm not dreading it. I think in my mid-20s or heading towards my 30s I was in denial, but I've come to terms with it now," he told BBC Berkshire.
"I'm not one for stats and records, but it's nice to know I'm on 270 and only a few behind Justin Bishop on 280.
"It would be nice to beat that [record] or at least match it. We'll see what happens."
Life after rugby is expected to see back-row forward Danaher take up a coaching position, something he hopes will be with the Madejski Stadium outfit.
"I'm ready for the change in a year's time. Hopefully that'll be coaching and coaching here," he said.
"I'm loving the stuff I'm doing with the academy and it is a completely different challenge for me. I love working with the kids and it's great to do something different.
"I will wait and see what my body is telling me at Christmas, but like anything you want to have everything in place before you announce it. It's in the back of mind, I'm nearly 34 so after Christmas I'll make a decision."