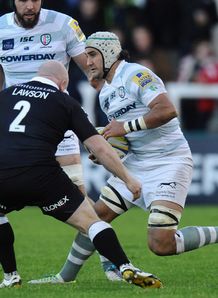 Related links
Teams
London Irish back-row Blair Cowan has admitted his unexpected Scotland call-up represents the realisation of a boyhood dream.
Having been released by Worcester Warriors at the end of last season, Cowan's form for Irish in the opening rounds of the Premiership has been excellent. That still didn't prepare him for the shock of Scott Johnson's call-up.
"There was a voice message on my phone and it was the first I'd heard about it, so there were a good few fist-pumps," Cowan told The Rugby Paper.
"I've got a real strong heritage on my Scottish side. If you met my mum, you couldn't find anyone who's more Scottish and my whole family are delighted, except my Scottish uncle. When I told him, he just said, 'are they that desperate!'
"Joking aside, it's a dream come true. It just so happened that when Scott Johnson came down to see Kieran Low, who has also been picked, Brian Smith told him I was Scottish-qualified. Scott said he'd keep an eye on me - and did!"
Originating from Upper Hutt, New Zealand, the 27-year-old arrived on these shores first in 2009 when he was signed by long-time mentor Chris Stirling for the Cornish Pirates.
"Chris knew me from age-grade in New Zealand and knew I was Scottish-qualified and had a passport, so he brought me over," explained Cowan.
"I don't think I'd be anywhere near where I am now if it wasn't for Chris."