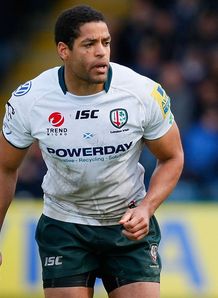 Related links
Teams
Also see
London Irish and Scotland back Joe Ansbro spoke to the media on Friday for the first time since breaking his neck back in August.
Ansbro sustained a triple fracture to the top of his C1 vertebrae at the top of his spine in a collision with Munster's Casey Laulala during a pre-season friendly for London Irish in Cork.
Initially fears were raised over not just his ability to return to the sport, but also whether he would be able to walk again.
"It wasn't the first time I'd tackled someone with my head, but it was a lot of pain and I was panicked but I didn't think I had done anything too serious," said Ansbro.
"I've had a series of concussions but I knew that I wasn't concussed. It was an odd, new pain."
"The first thing that came to me was how lucky I was, especially looking around the intensive unit when I was in hospital in Cork. At the same time, you do feel a bit unlucky because you don't ever think it will happen to you."
Nearly three months on from the incident, Ansbro had the supportive device commonly known as a "halo" removed recently, something which he is very happy about.
"As he speaks, the holes on the side of his head where the screws are inserted to secure the device remain visible.
"You sleep sat up, but if you're tired you sleep any way you can. It's a bit like a cage and you have four screws that go into your skull.
"The process of having it put on isn't very nice and it's a bit like having your head in a vice. That was the worst part. You've essentially got four open wounds in your head for ten weeks."
With the device now removed and framed at home, Ansbro is hugely grateful for the phenomenal amount of support he has received from London Irish, the Scottish Rugby Union, the RPA, his girlfriend and most of all, his Mum.
There have also been hundreds of messages of support, something that Ansbro has found very moving.
"I've been very fortunate to have everything taken care of and the goodwill from people wishing me well is what I'll always remember about this experience," added Ansbro.
"There's been huge support from Irish, Scotland and the RPA and then the communities that I come from in Dumfries, Richmond and Lancashire, and then of course the rugby community in general. There have been hundreds of written messages and I've received so many others. It's been staggering."
Now out of the "halo", Ansbro has been working on increasing his range of movement with the physios at London Irish, making encouraging process before another scan in Edinburgh in the New Year will determine how well his rehabilitation is going.
Although he jokingly admits that he is not quite ready to receive a tackle from Premiership hardman Chris Hala'ufia just yet, Ansbro also states that there was a moment where he wondered whether he would step back onto a rugby pitch at all.
"It was a confusing time. You have so many different elements going on in your head and it's very hard to be objective. As time goes on, I've missed the game more."
"The highs are very enticing and although the season has been tough for Irish, you miss all of that. It's a huge part of my life, but I just need to take it step by step."
by Ben Coles
@bencoles_