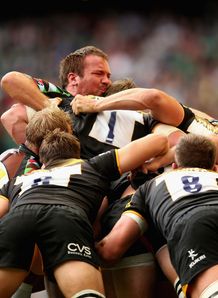 Related links
Teams
The newly signed Harlequins prop, Paul Doran-Jones, is looking forward to his debut at the Stoop against his former team Northampton Saints.
The England international feels that the script couldn't have been written any better than making his home debut against his former club. The Enfield-born 28-year-old also said that the opportunity to return home played a pivotal role in his decision to join Quins.
"If it could have been drawn up, this is probably how I would have wanted it," he told BBC London.
"It will be tough for both sides but it will be a great experience for me, with a packed house at the Stoop hopefully. It will be fiercely competitive."
"Both clubs are great clubs," added Doran-Jones.
"Northampton is a fantastic club with a massive fanbase, huge stadium and a tradition.
"It was just a chance to come back home, live where I grew up, settle here and hopefully put some roots down.
"I don't really want to be moving too much more. It was a great opportunity at a club which is doing really, really well.
"It was a tough decision to leave Saints but hopefully it will be a long, illustrious career here.
"I am really enjoying it and it is a fantastic club. The way they try play the game is one that hopefully suits me."
The 2012 Premiership champions started the season with a below par one-point victory over Wasps at Twickenham. Doran-Jones knows all too well that improvements will have to be made if Harlequins are going to record their second win in as many starts.
"It was a fiercely competed game and Wasps were on their mettle," said the front-row forward.
"We probably didn't get our game on to the pitch and left feeling a little bit frustrated. It was good to get a win but there are a lot of things to put right which we have talked about.
"Saints are a top European side - not just in the Premiership.
"If we can get our processes and the fundamentals in place [which] we perhaps lacked on Saturday we will hopefully get the result.
"Both teams will be looking for a top-four finish and then greater honours but that is a long way off."