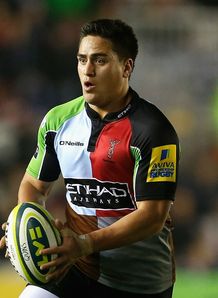 Related links
Teams
Harlequins fly-half Ben Botica will be watching Saturday's Test at Twickenham carefully and isn't ruling out a future with either team.
As a former New Zealand Schoolboy, who spent his childhood in England, Botica qualifies to play for both countries.
The talented 23-year-old may be an understudy to fellow Kiwi star Nick Evans at the Stoop, but that hasn't stopped Botica winning many an admirer in his brief Premiership appearances this season.
And while the All Blacks' number 10 jersey seems to be the permanent possession of Dan Carter, the same can't be said of the Red Rose equivalent - something Botica is well aware of.
"I'm keeping my eye on the Tests, hoping the lads can win," said the Takapuna-born star.
"I have a few mates in the English team now but my heart is still with NZ. I just don't know about the future. I have just started playing for Harlequins in the Premiership.
"The possibility of playing for England has come up, but I'm just going to keep on playing for Harlequins and just play the best I can and if an opportunity like that arises you face them when they come to you."
Botica lived in Wigan and Llanelli as a youngster with dad Frano starring for the Welsh club and rugby league outfits Wigan Warriors and Castleford Tigers, earning a UK passport in the process.
But the former North Harbour back admits the level of skill in the northern hemisphere has surprised him since his return to these shores at the start of the season - with the subsequent improvement in his game propelling him into contention for Quins' first XV.
"Coming here I'm just amazed at the amount of skill not just the back line has, but the forwards have," said Botica.
"In reality when you come up here you realise it's all to do with skill, and they put a lot more emphasis on skill here than they do down south.
"With Harlequins there is a lot of technical and skill-based stuff, and it's helping my game tremendously. Coming over here it's just revitalised my career, and I'm loving it."
With a club legend like Nick Evans in front of him, however, Botica is happy to bide his time and learn from the best, allowing the future to look after itself.
"Nick is getting old now - if he doesn't mind me saying - and he's just so good he knows the game so well he knows it in and out," revealed Botica.
"Having him at the club is only going to make me better.
"He just makes thing easier, simple little things like kick-offs, bounces of the ball, how you drop the ball, things like that. He's such a good kicker and picking up things like that has helped me.
"I'm going to play here the best I can and maybe one day I may go back to NZ or not, you never know what will happen here, so I'm just going to keep playing and doing what I love doing."