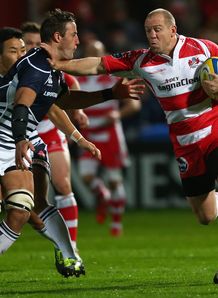 Related links
Teams
Gloucester centre Mike Tindall hasn't yet decided whether he will retire at the end of the season, revealing that he will do "what's right for the club".
The 35-year-old former England international, who is in his seventeenth Premiership season, won't make a decision until some time in 2014.
"It's tough at the moment, I still love playing and I've played 11 games this year already," he said, speaking to Press Association Sport.
"I'm playing regularly and I feel good when I'm playing. But at the same time it's about what's right for the club. So it's finding that balance.
"I don't see myself as a key person to get signed up to play for next year. That will all happen late doors depending on what's right for myself and what's right for the club.
"We're very good at coming to arrangements last-minute though. So I'm sure when it comes to it we'll be able to sort something out that works.
"If that needs to be the case at the end of the year that I need to play another year, and I feel comfortable in terms of the amount of games I've played and how I've played in them, then that's the right thing.
"But if it's not then we've got to assess that properly as well. I'm open-minded at the moment. At the moment I love playing and I would love to play another year.
"But we'll have to see what happens throughout the year and where we are at the end of it. Definitely I will want to be at the club next season, whatever the capacity. That's never going to change."