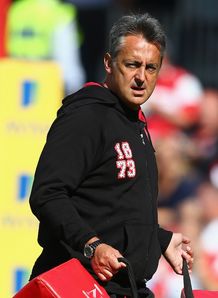 Related links
Teams
Gloucester boss Nigel Davies was left frustrated by his side's lack of composure in their narrow home loss to Wasps on Saturday.
The Kingsholm outfit led 23-20 with minutes left on the clock, but ex-All Black scrum-half Jimmy Cowan spilled the visitors' restart in his own 22, allowing Josh Bassett to claim the ball and send Guy Thomson over for a try.
Wasps went on to record a 32-30 victory, and consign Gloucester to three straight domestic defeats, with just two Premiership wins to their name this season.
And Davies expressed his disappointment at the way his charges failed to close out the match.
"We didn't put an 80-minute performance in (against Wasps) and that is what I am most disappointed about," he told The Gloucestershire Citizen.
"We didn't have the energy levels that we needed in that first half, although we turned it round in the second half and we were dominant in that second half.
"The fact that we put ourselves in a position to win that match is frustrating but it is also a frustration that we didn't have an 80-minute performance."
Flying winger Christian Wade bagged two fine tries in his side's win, and the hosts found themselves 14 points down in the opening quarter.
And despite recovering well, Gloucester were always chasing the game.
"The fact is, we gave away two very soft tries which you can't afford to do," Davies said.
"Wade gave them the match winner and if you give a player like that time and space that is what he is going to do.
"When we look back at the stats, I am sure we came out on top.
"But, the fact is, when they have a finisher like they have in Wade and when we make two stupid errors, that's what is going to happen.
"The number one focus was our energy levels.
"I didn't think we showed that in the first half, and in the second half we did. We got the momentum early and we showed a lot of energy."
A losing bonus point came as scant consolation for the Director of Rugby, angered at his side's slow start.
We worked so hard to get ourselves back in that game only to let ourselves down in a moment of madness," he said.
"We are always starting slowly at the moment. We will have to address that.
"We have got a two-week break now (from the Aviva Premiership) and that will be good for us.
"We will stick our hands up and our confidence levels will be lower than they are normally.
"We haven't had the start that we have wanted and we have got to use this break wisely.
"I think there is enough in that second half to show everybody, including the guys themselves, what we are capable of."