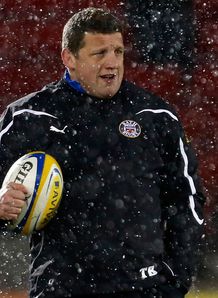 Related links
Teams
Bath coach Toby Booth was pleased with his side's thumping of Bordeaux-Begles on Thursday to ensure top European seeding.
The try bonus-point was secured barely five minutes into the second-half, with the final score of 54-13 guaranteeing a first-place finish with 28 points from a possible 30, meaning Bath will likely face Sale Sharks or Biarritz on home turf in the quarter-finals of the Challenge Cup.
"It was a fantastic job well done," Booth told the ERC.
"What was most pleasing was that we had good balance. The conditions became more difficult with the showers and the surface was weak on the edges but our decision making was generally good and so was the way we applied pressure.
"Their pack is enormous and we knew there was going to have to be a softening up process and that hopefully our quality and fitness would tell in the end, and that proved to be the case.
"We knew from speaking to their coaches and from the team that they had selected that they were bringing a lot of fringe players. In a way, that can be even more dangerous because they have got nothing to lose and they bring lots of energy.
"It was important that we controlled the match as best we could and we started exceptionally with a great finish to get on the front foot. There was then that little stalemate period but I think that our quality told the longer the contest went on."
Booth was also pleased not to be relying on other results to secure a knockout placing.
"It's always easier when you're in front and in control of a pool," added Booth.
"We wanted to make sure we controlled our own destiny.
"Everyone talks of the mentality of people who can't qualify and that was important last week against the Dragons because they still had an opportunity mathematically to get through. To get control of that game was important.
"From two rounds ago, we said 'look, we've got an opportunity if we get 10 points to finish first'. That was a little challenge and these sort of challenges, especially with the group of players we've got who are ambitious and want to be challenged week in, week out, are great because you can make something out of them. We wanted to make a statement about ourselves."