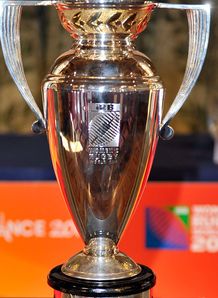 The match schedule for the Women's Rugby World Cup 2014 in Paris has been announced.
Fifteen matches will be broadcast over the five match days in the French capital, including six matches from the Stade Jean Bouin.
The pinnacle of the Women's Fifteens Game will be held at the Fédération Française de Rugby (FFR) headquarters in Marcoussis for the pool stages, before moving to Stade Jean Bouin - the home of Stade Français - for the semi-finals and final.
The 12 teams that will compete at Women's Rugby World Cup 2014 will meet during the pool stages on August 1, 5, 9, with the semi-finals to be played on August 13 and the finals on August 17.
Pool A: England, Canada, Spain, Samoa
Pool B: New Zealand, USA, Ireland, Kazakhstan
Pool C: Australia, France, Wales, South Africa
Match schedule:
Friday August 1:
New Zealand v Kazakhstan; Canada v Spain; USA v Ireland; Australia v South Africa; England v Samoa; France v Wales.
Tuesday August 5:
US v Kazakhstan; Australia v Wales; Canada v Samoa; England v Spain; New Zealand v Ireland; France v South Africa.
Saturday August 9:
Ireland v Kazakhstan; Spain v Samoa; Wales v South Africa; England v Canada, New Zealand v USA, Australia v France.
At the end of the pool phase, the teams will be seeded based on the position in which they finished in their respective pools.
Wednesday August 13:
10th seed v 11th seed; 9th seed v 12th seed; 6th seed v 7th seed; 5th seed v 8th seed;
Semi-finals: 2nd seed v 3rd seed; 1st seed v 4th seed.
Sunday August 17:
The final will be played at Stade Jean Bouin in Paris, after the curtain-raiser between the losing semi-finalists.