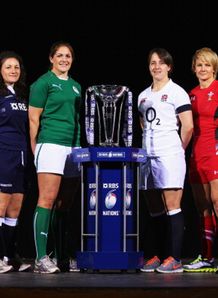 Related links
Teams
Five changes have been made to the Scotland Women squad ahead of Sunday's Six Nations clash with France at Hawthornden, Lasswade.
Scotland head coach, Jules Maxton, has introduced a half-back combination who have not been paired together in the starting XV for this year's Six Nations campaign. Sarah Law will make her second start of the tournament at scrum-half, as Tanya Griffith, will wear the number ten shirt following a good performance off the bench in Italy. As a result, Louise Dalgliesh and Lisa Martin will be among the substitutes.
"Although we've not managed to record a win this year, there's a lot of positives we can take from our games," said Griffith.
"We just need to stay focused and get our mentality right. We're sometimes guilty of putting our heads down instead of concentrating on the game.
"We know France will be tough, but there's a sense of genuine belief and excitement in the camp that we can get a win this weekend, especially following a strong second-half performance against Italy."
Evergreen prop, Heather Lockhart, will win her 70th cap as she takes to the pitch to play France.
"Heather, is someone all the squad look up to, she's an influential figure among us," added Griffith.
"Every time she wears the jersey, Heather, gives everything she can and plays with real passion, which is something we all aspire to."
Maxton, has only made one change to the starting pack as Jade Konkel, is promoted from the bench to start in the back-row in place of Anna Stodter, who will not feature in the squad to play France.
Megan Gaffney is reinstated into the squad, as her Hillhead-Jordanhill team-mate, Sarah Smith, joins her on the bench in the place of Emily Irving.
Scotland Women: 15 Steph Johnston, 14 Annabel Sergeant, 13 Gillian Inglis, 12 Laura Steven, 11 Katy Green, 10 Tanya Griffith, 9 Sarah Law, 8 Jade Konkel 7 Tess Forsberg, 6 Ruth Slaven, 5 Emma Wassell, 4 Deborah McCormack, 3 Tracy Balmer, 2 Lindsey Smith, 1 Heather Lockhart
Replacements: 16 Lana Skeldon, 17 Karen Dunbar, 18 Lisa Robertson, 19 Rachael Cook, 20 Louise Dalgliesh, 21Lisa Martin, 22 Megan Gaffney, 23 Sarah Smith