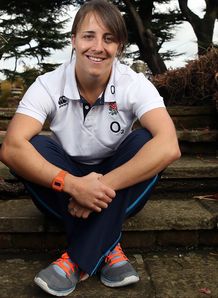 Related links
Teams
England Women's fly-half Katy Mclean has received an MBE in the New Year's Honours list for services to rugby, it was confirmed on Tuesday.
The 28-year-old number ten from South Shields has won 64 caps while combining her playing career with teaching in the North East of England.
She is the second current England Women's player to be honoured after Maggie Alphonsi, who got an MBE in 2012 Queen's Birthday Honours.
The honour arrived in an unusual fashion, though. The letter asking whether Mclean wished to accept the award was sent to the former ground of her club side Darlington Mowden Park Sharks.
Marked 'On Her Majesty's Service', it triggered concerns it might be a court order until it was successfully redirected.
"I'm absolutely shocked to receive an MBE and it's not something I ever expected I'd get," said Mclean.
"I've had an amazing rugby career but you don't ever think of anything like this ever happening to you.
"It's a huge honour and it's for all the people who have helped me and for all those who've worked so hard to bring the women's game forward. They deserve a massive thank you."
Mclean watched dad David in action for Westoe, then played there until the age of 12 returning to the game as an 18 year-old and progressed through England's age group sides and played for Darlington Mowden Park.
Since 2010 she has combined club and international rugby with teaching Reception age children at Bexhill Academy in Sunderland and will take time off in 2014 to prepare for the Women's Rugby World Cup in France next August.
"The school's been really supportive and I owe a great deal to Katrina Smith the other Reception teacher. I couldn't do what I do without their support," she added.