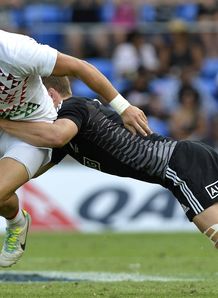 Related links
Teams
Mike and Megan Ellery make up a unique family double act for the two England Sevens sides in the Middle East this week.
The siblings from Penrith in Cumbria are both in action at the Dubai Sevens - the first time England teams have featured a brother and sister.
24-year-old Mike is an established part of the England men's side taking part in the Sevens World Series while Megan, 21, makes her debut for women in the IRB Women's World Series event.
Mike, a versatile 6ft 5in (1.95 metre) forward, was signed by England in the summer of 2012 and takes part in his sixth World Series tournament.
Megan, a 5ft 8in (1.72 metre) centre or wing, took a different route into the international game, returning to rugby from netball to play for Durham University and Darlington Mowden Park Sharks before her involvement in sevens through the GB Students side and England's development set-up.
Growing up in Cumbria, they played one-on-one rugby at home and at Penrith RFC - Stuart Lancaster's first club - where dad Nick coached them both.
"It came as a bit of a surprise because I thought she was going on a gap year after university where she played netball, then out of nowhere earlier this year she told me she was going to do a trial for England Sevens after two or three games for university," said Mike.
"I didn't even know she was playing rugby. Then she told me she was in the squad!
"I haven't seen her play in the flesh but I have seen her on TV. In the clips I've seen she looks powerful and fast. I've just spoken to one of the women's management team who said she's class - really powerful and quick."
Megan played rugby until the age of 13 before concentrating on netball until her final year of university.
"I'd played a couple of matches and I'd seen Michael playing and was pretty jealous of his lifestyle and thought I'd give it a go," she said.
"I never expected anything to come of it. Everyone's got this annoying little sibling who copies everything they do!
"In sporting terms Mike's a great rugby player. He's always worked really hard at his rugby as is proved by the way he's worked himself up the ranks.
"I could learn a lot for him there. He's one of the most powerful sevens players I've seen and he's deceptively rapid."
England's Women are in action over the next two days (November 28-29), starting with pool matches against Tunisia, Spain and Russia.
The men's event - the second of the nine-leg World Series - runs from November 29 to 30 beginning with pool matches against Canada, the USA and Fiji.