The new ASICS-designed and manufactured Springbok jersey for the Rugby World Cup was launched at a glittering event in Cape Town on Thursday, with the 100-day mark to the start of the global showpiece fast approaching.
The launch of the iconic jersey is the culmination of months of hard work by scientists at the ASICS Institute of Sport Science in Kobe, Japan, in collaboration with the South African Rugby Union (SARU).
Jean de Villiers, Tendai Mtawarira, Eben Etzebeth, Bismarck du Plessis, Duane Vermeulen, Willie le Roux, Cornal Hendricks and Pat Lambie took part in an extensive testing programme in Japan to fine tune the final product. They were accompanied by Springbok coach Heyneke Meyer and other members of the management team.
The main aims in the design of the Springboks' apparel were to reduce weight without compromising on strength. The jersey for the 2015 Rugby World Cup will be the lightest ever worn by South Africa, at 70 grams lighter than any previous jersey.
It also has smooth surface making it harder than ever before to keep hold of in the tackle, while an area which has seen significant development after player insight is the Super-Grip silicone which features on the chest of the jersey.
"The road to England for the Rugby World Cup is a long one, and planning for it started a long time ago," said Jurie Roux, SARU CEO.
"You can be sure that no stone has been left unturned by South African Rugby in the Springbok campaign.
"But today we unveil the first, and one of the most critical elements of that process – our new ASICS-designed Springbok RWC jersey. We know our supporters have been dying to get their hands on it.
"But this isn't just a new variation on a traditional theme of green and gold. It is a meticulously designed and engineered jersey to give the Springboks the blend of comfort and performance to give them the edge on the field.
"Every detail is designed to benefit the wearer's performance – because that is ASICS' main driver and a key consideration when we formed our partnership."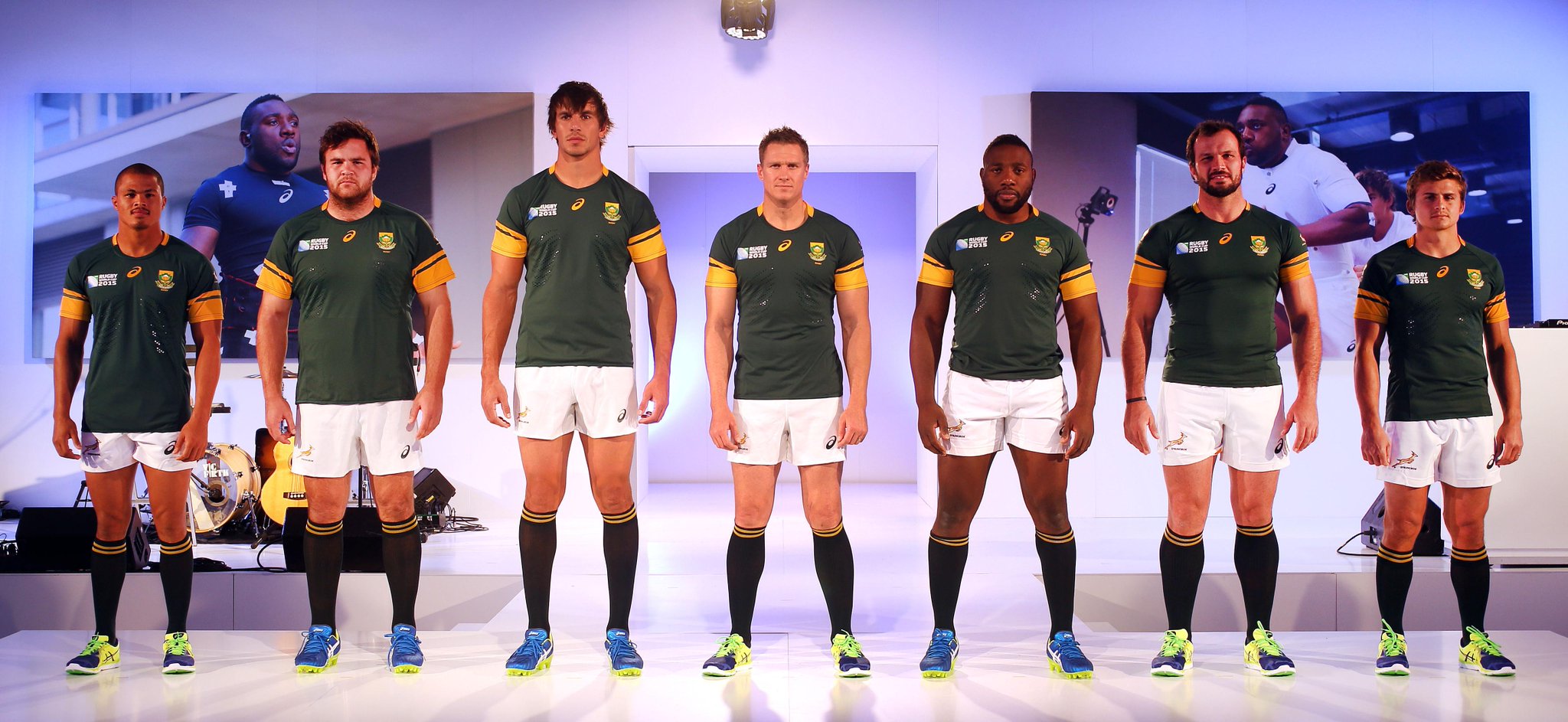 Springbok captain Jean de Villiers said: "If we can bottle the atmosphere and enthusiasm from this launch, then we'll start the Rugby World Cup on a very positive note.
"We're amazed at the level of detail and research that ASICS has put into creating the kit, which reflects the detail we put into our own preparation."
---