The British & Irish Lions
Lancaster defends substitutions
England Rugby Union Head Coach Stuart Lancaster has defended the substitutions he made in the defeat to France at the weekend.
Planet Rugby Union Photos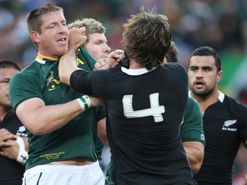 Picture tribute: Bakkies Botha
After announcing his retirement from international rugby, we look back at the successful - if at times colourful - career of Bakkies Botha. Maybe there's more trophies to come with Toulon in the future?
Photo galleries home